Hartland Peninsula II
Date and Time

Venue Address

Hartland Quay Hotel

Hartland

Bideford

EX39 6DU
This event is the same as the one the following day that is booked up.                               
Ticket sales open on 20th May 2022.
The Hartland Peninsula of North Devon has some of the most striking rock formations to be seen anywhere in England. Despite this it is relatively little known and much less frequently photographed than some other parts of the coast. At Hartland, layers of sandstone and shales deposited in the Carboniferous period have been folded and faulted into extraordinary shapes, with their twisted strata clearly visible in the cliffs and beaches. This occurred around 300 million years ago during a huge mountain-building event called the Variscan Orogeny as continental plates collided. Contorted strata tipped nearly vertical have created remarkable rock ridges and a double natural arch which make unusual and interesting photographs.  
This one day workshop will explore three outstanding and contrasting locations (within a radius of 8 miles) at the ideal states of tide to produce exceptional images. We will use neutral density filters and a variety of shutter speeds to show moving water in atmospheric ways and capture rock pool reflections at low tide.  The strong leading lines and textures of the rocks make both colour and monochrome photography productive in a variety of weather conditions.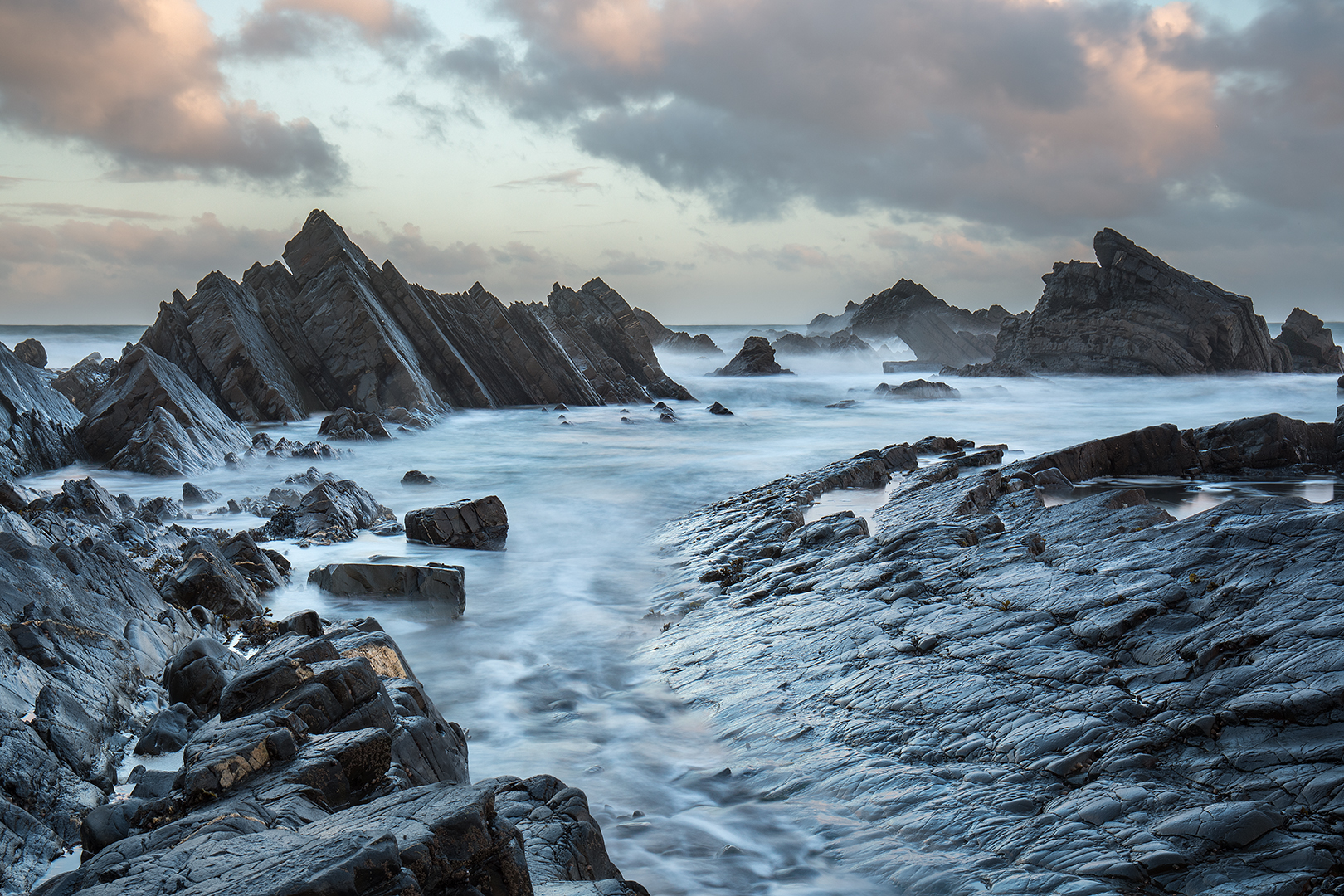 All three shooting locations are on rocky beaches and you will traverse up to 50m of uneven terrain to reach each of them. Two are located adjacent to car parks whilst the third involves a walk of one mile in each direction on a level track. All locations are intertidal and for best results you will be shooting at the water's edge (on a falling tide).
The beaches are not wheelchair accessible so this field trip is not suitable for wheelchair users.
Bring a packed lunch.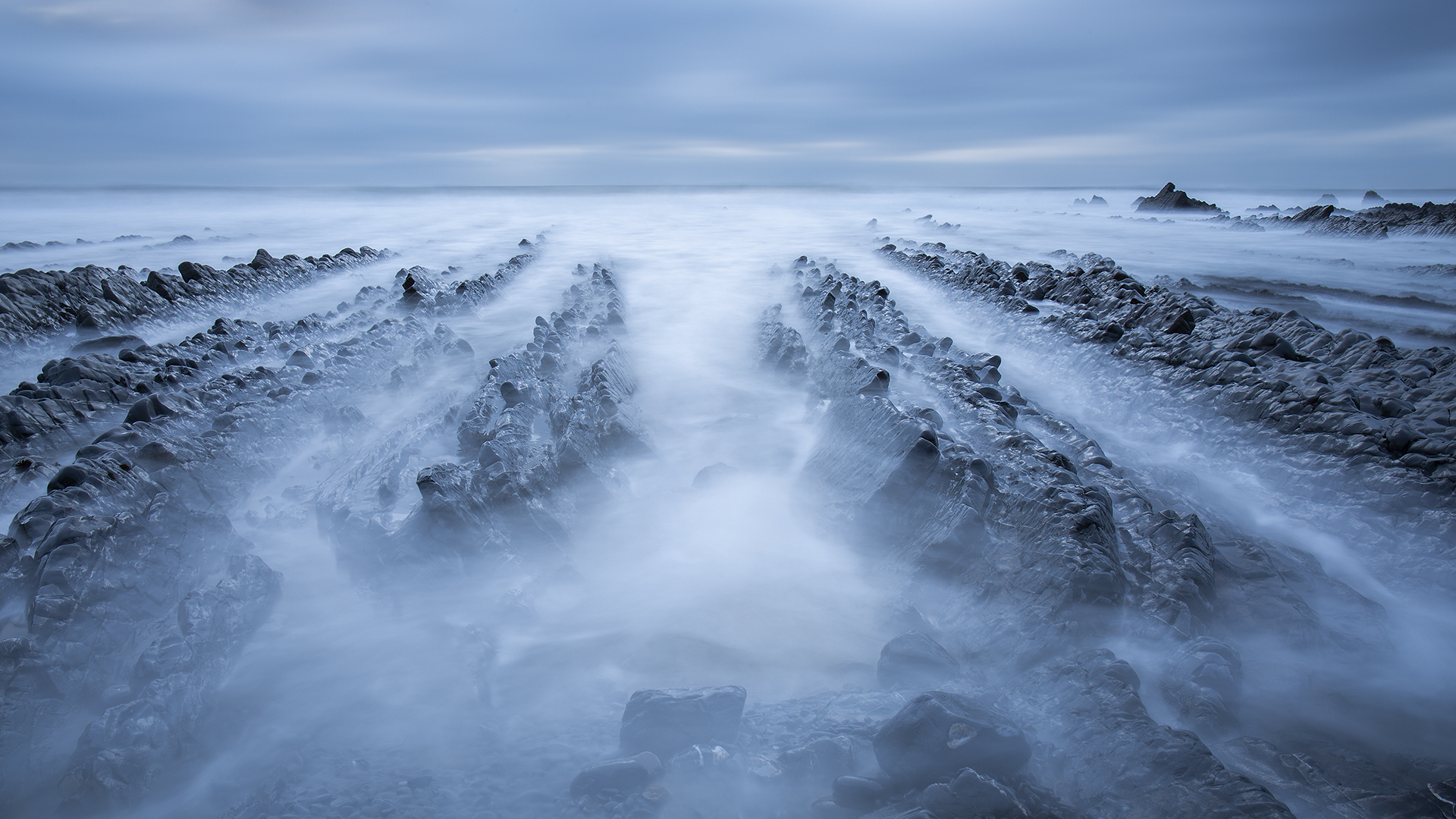 DSLR camera or equivalent plus a range of lenses from wide angle (e.g. 16-35mm on a full-frame camera) through standard zoom to short / medium telephoto (e.g. 70-300mm on a full-frame camera).
Sturdy tripod.
Neutral density filters (not graduated) – ideally 4 stop, 6 stop and 10 stop – are essential to explore the effects of different shutter speeds on water.
Lens hood and rain sleeve in case of wet weather.
Hiking boots for rocks and wellington boots (or waders) for photography at the water's edge.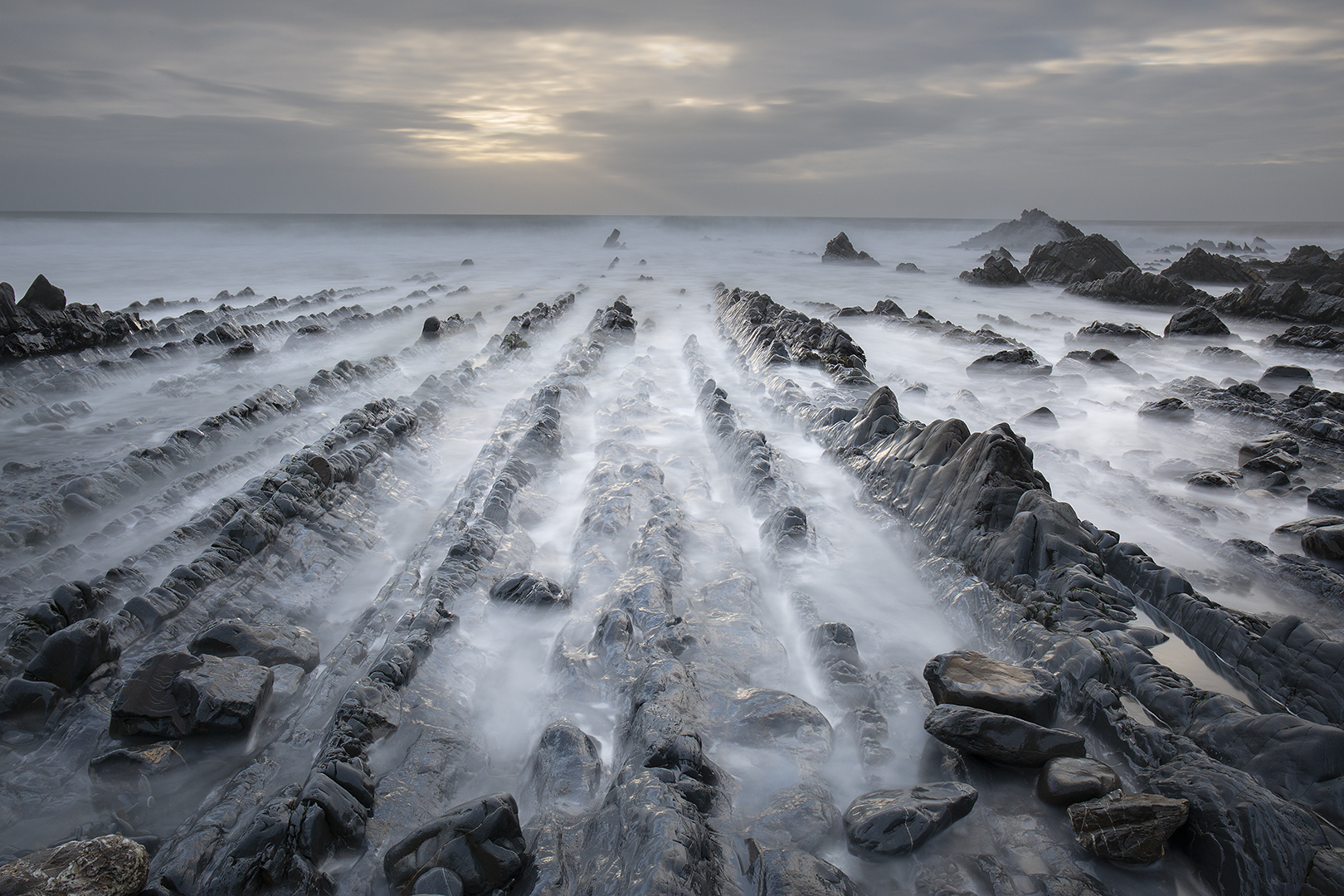 Meeting Point: Hartland Quay Hotel, Hartland, Bideford, EX39 6DU
The initial meeting point is easy to find. One of the shooting locations involves driving a couple of miles on a narrow unpaved track to reach a beach car park (directions will be given to participants).
Participants who wish to stay overnight at Hartland Quay Hotel can make their own arrangements.
Toilets at Hartland Quay. 
Ticket prices for this event include a £2 carbon offsetting charge.  For more information click here.
Covid-19
In the light of recent developments, the latest government guidance and leading industry practice the RPS Landscape Group has adopted the following updated guidelines for events involving meeting in person.
Before attending one of our workshops or events please take a lateral flow test and do not attend if the result is positive.
Unless you are medically exempt you are encouraged to be fully vaccinated (i.e. 2 vaccinations, plus a booster if applicable) to attend one of our events. If you are not fully vaccinated (for whatever reason) you must follow rigorous social distancing measures including:

maintaining a physical distance of at least 2m from other participants and the event leader whenever possible
wearing a face covering whenever it is not possible to maintain such a distance
following any other social distancing and infection prevention measures and advice issued by relevant public health authorities.

You must not attend any event if you have symptoms of covid-19 or have had a positive covid test result within the last 14 days.
The event leader may ask you to wear a face covering at certain times e.g. while indoors or while any tuition necessarily takes place in close proximity to the tutor or other participants. Unless you are medically exempt you must comply with the event leader's requests.
Decisions regarding the implementation of these precautions will be those of the event leader, taking account both of current government guidance or regulations and, if this would lead to a more cautious approach, common sense. The event leader's decision will be final.  If you are not willing to comply with any such instructions, please don't book a place.
You should take out insurance to cover cancellation in the event that you contract Covid-19 and are unable to attend.
Carers and helpers
Any person who has a health condition or disability and needs a carer or helper may bring them along to an RPS Landscape Group event without charge. You must book a carer/helper ticket for your helper.
The carer/helper is there to assist you and will not be given any tuition or be permitted to participate in the photographic discussion. Attendance is free of charge but any out of pocket costs such as meals, transport or accommodation will be borne by the attendee.
Your data
Please note: your personal data (name, email address and telephone number) that you supply when booking an event will be passed to the event / workshop leader in order to enable them to:
contact you in advance of the event to remind you or notify you of joining instructions (or changes thereto) etc.
contact you at short notice before or during an event in case of any emergency or last-minute changes (eg because of weather).
By booking this event you are deemed to consent to this transfer of your data.
Event Organiser
Name

Mark Reeves

Tel
Cancellation policy

Cancellation by You

If you wish to cancel your booking PLEASE let the event leader / organiser know with as much notice as possible. If nothing else, this can avoid them delaying the start of the event while they wait for you.

If you have paid for an event, please note that this fee/ticket price is non-refundable unless we are able to sell your place to somebody else. You are welcome to sell your place yourself but, again, PLEASE notify the event leader / organiser in advance of any change.

Cancellation by us

Event leaders are asked to make plans for alternative activities or locations in the case of poor weather and, in most cases, events will proceed despite poor weather unless, in the view of the event leader, the weather will lead to unacceptable safety risks or very little chance of successful photography. It is inevitable, however, that occasionally an event will be cancelled for this or another reason beyond the RPS's control.

Occasionally an event may also be cancelled owing to lack of bookings. So if you wish to attend an event, don't leave it till the last minute to book as it may be too late.

If an event is cancelled we will give you as much notice as we are able and any payment by you to the RPS in respect of the event offered as a full refund. In the case of events cancelled because of lack of interest we will aim to give at least three weeks' notice wherever possible.

Please note we are NOT able to refund any associated or consequential costs including but not limited to travel, accommodation, insurance premium or other costs incurred by you in order to attend the event.
Address

Hartland Quay Hotel

Hartland

Bideford

EX39 6DU