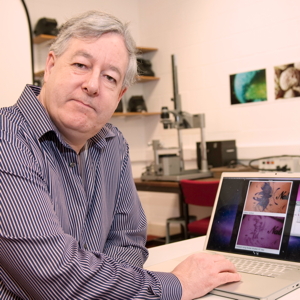 David Bryson
FRPS
I first became interested in photography at the University of Aberdeen where I first saw its application in anatomy when the photographer recorded an anatomical anomaly. After completing my degree in Anatomy I studied for a PGCertEd at the University of Aberystwyth which also covered Visual Education including black and white photography and processing also use of video big BBC cameras and reel to reel editing.

I spent time in between and in University holidays as a Theatre Porter/Ward Orderly now equivalent to Operating Department Assistant and Nursing Associate then I trained as a Clinical photographer at the University Hospital of Wales, now part of Cardiff University. I worked at Ninewells Hospital and Medical School, University of Dundee and freelance in Bromsgrove and Redditch specialising in Clinical and Personal Injury photography.

I then got back to teaching with the Medical and Technical Photography HNC at Berkshire College of Art & Design, Reading before moving to the University of Derby as Programme Leader for the BSc(Hons) in Biological Imaging. I then helped develop the BSc(Hons) Forensic Science where I have been teaching the Forensic Imaging module since 2004. I have led a number of other programmes including Design for Digital Media and Web Design and Multimedia. I now teach in the College of Life and Natural Sciences using photography in science including Advanced Methods in Zoology, Microbiology, Independent Studies and Forensic Imaging as well as teaching on other modules.
Facebook

Instagram

Twitter