Audio Visual
The Audio Visual Group encourages their members in the making of AV sequences through education, competition and distinctions
Retrospective Programme
Programme for 'An International AV Retrospective'
To view and download an easy to print A4 version of the Programme for the Retrospective please click here
To view and download an A5 souvenir copy of the Programme for the Retrospective, just like the usual Festival Programme, please click here. The A5 version requires back to back printing, which you may have to do manually on your printer.
You can also view the A5 Programme through Issuu by clicking here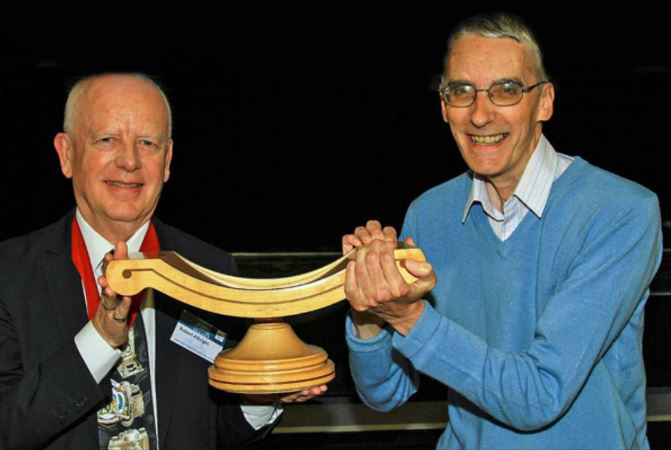 Robert Albright, President of the RPS presenting the Grand Prix Trophy to Richard Brown for his sequence In Search of Christina,  the winner of the 23rd IAVF.
ABOUT AUDIO VISUAL
Welcome to the RPS Audio Visual Group......
The Audio Visual Group is one of the larger groups, catering for the interests of photographers who enjoy and make Audio Visual productions. The AV Group is a friendly, caring and sharing community.
Audio Visual, or AV as it is known is a fantastic way of showcasing stunning photographic images linked to a sound track – music, song, poetry, words, sounds, or a combination of these.  A particular feature of an AV production is the third image, that wonderful moment when one image dissolves into the next.
Almost exclusively digital these days, AV productions combine projected photographs and possibly video with a sound track giving you the opportunity to combine projected photographs with sound and narration and it is an interesting way of presenting your work and ideas.   We can offer you advice, encourage and support members through eduction, competition and distinctions, as well as showing you how to make an AV.  Please click on Making an AV Sequence for "How to and more information"
Why not click on our Benefits to Join to give you a brief resume of what we have to offer and do browse around our web pages to find out more by clicking on the links below.